MEMBERS Sea Kayaking Day Trip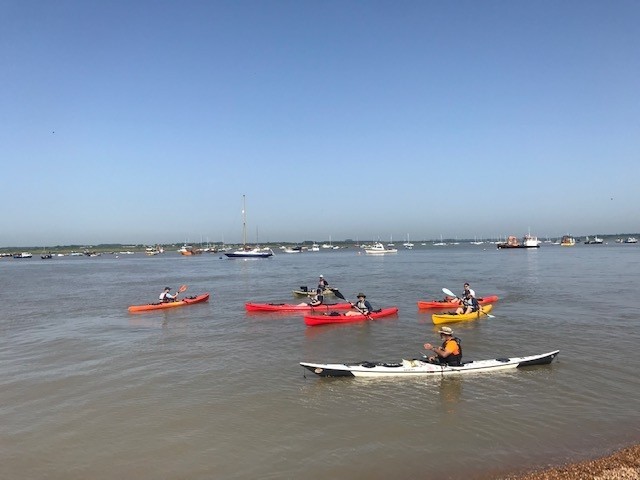 MEMBERS Sea Kayaking Day Trip
Exclusively MEMBERS only!
There are currently no dates scheduled for this event. Please telephone 01473 - 375 026 for available dates for this event.
Overview
Every year we offer Members an exclusive Members Sea Kayaking Trip, presented with pleasure by NOMAD Sea Kayaking. This is a trip for Members who paddle sea kayaks i.e. decked boats only (No SOT's). The trip is long and we paddle regardless of the weather conditions with the hope that we'll experience some challenging seas, landings, and launches.
This year we are launching from Felixstowe Ferry (Bawdsey Quay depending where you are coming from) and paddling with the sunrise to Half Penny Pier in Harwich for breakfast at the cafe. The return journey will be on the ebb tide with an afternoon arrival. The total distance is a little over 15 miles total. This is a great opportunity to get out in deep, tidal water and stretch your fitness and skills; perfect for our new Members and anyone having completed their tidal sea kayaking course.
The Trip Plan will be emailed to all Member guests a few days before the launch.
Weather Remit: A wind of a maximum of 19 knots steady blow with wind gusts up to 25 knots. The trip will be rescheduled if the wind exceeds this limit and there is further discretion on the part of the Lead Guide with all-night events. Rain, snow, and other conditions don't generally affect our ability on the water. Exceptions are sometimes made and this is at the discretion of your Lead Guide and/or the Operations Director. Your Lead Guide will make a decision based on the wind speed (including wind gusts) in combination with tide strength and direction, time of day or night, and size of the group alongside other factors that may influence the safety and comfort of the entire group. NSK wants to get your event completed as soon as possible; please trust the judgment of your coach/Guide.
Review - T. Davies, 10th December 2019
An awesome day out to Harwich from Felixstowe Ferry with Kurt & Christian. Nice run down the coast to Langard Point and then a quick dash across the shipping lane. Breakfast at the cafe on Half Penny pier was followed by a tour round Light Vessel 18 famous from the film The boat that Rocked while we waited for the tide to turn. The trip back was more exciting - a NE wind over the ebbing tide - some of those waves were over my head! Definitely, one to do again - perhaps on a nice summer's day next time!

It should be noted that events only go ahead with a minimum of six (6) MEMBERS.
Location
Launch location
Felixstowe Ferry or Bawdsey Quay
Equipment
Own sea kayaks and equipment.
Additional Notes
Come prepared with;
- A solid assisted recovery.
- Own sea kayak, paddle and buoyancy aid.
- Full safety gear including tow system, grab bag, means for calling assistance, spare warm clothing, food and fluids.
Launch venue and timings to be confirmed one week prior to the event.
*Social distancing guidelines will be maintained on all NSK trips, courses, wild camps and events. Your Lead Guide will provide guidance during your safety briefing.* It should be noted that events only go ahead with a minimum of six (6) guests.