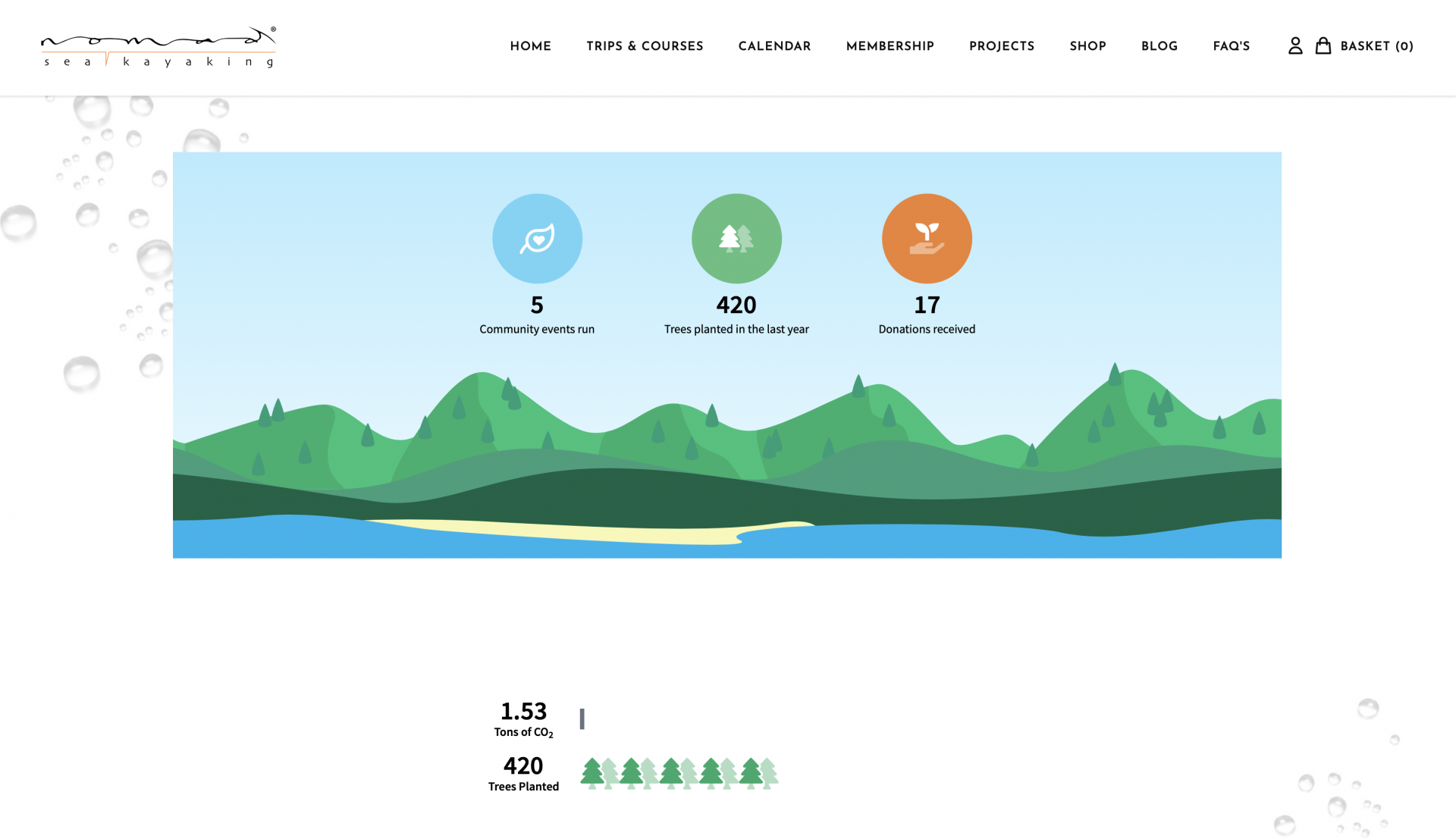 10th August 2021 / General
Offset Your CO2 Footprint!
Over the past sixteen years of trading, we have tried to do some good for our environment when we are on our trips & courses. The focus has been on beach cleans with each guest filling a black bag with refuse & processing it to landfill. Over the years we have gradually managed to recycle more & more of this waste.
But now there is a national & global drive to make things right. To manage CO2 emissions & stop the poisoning of our fields, the destruction of topsoils, the cutting down of our ancient woods & the poisoning of our insects.
Most intelligent people realise that we all have to change our habits & this starts by recording our impact & then taking action to seriously alleviate that impact.
Every event we lead has had a CO2 calculation made for each guest & for that specific event & built in to our website booking process.
The calculation includes the following (in no particular order);
1. Driving two work vehicles to our central work base i.e. marina & return at the end of the day.
2. Driving one work vehicle to collect the allocated trailer with the kayaks, paddles & buoyancy aids from our storage. Returning the trailer & boats at the end of the day.
3. Driving one work vehicle with the allocated trailer to the designated launch venue for the event or course. Return journey at the end of each event.
4. Driving from Felixstowe to designated launch venue for one Guide. Return journey.
5. Plastic sit-on-top kayaks purchased abroad & imported to the UK by ship in a container.
6. Freshwater volume used to rinse all kayaks, guide boats & equipment including clothing, after each event & course.
5. Water is calculated on the number of baths (household) & we use five (5) baths to wash one full trailer load of twelve sit-on-top kayaks, two guide boats, one vehicle, one trailer & all paddles, buoyancy aids & guide clothing & equipment.
Variables
1. Mileage, distance from storage area to designated launch venue.
2. Number of kayaks carried.
3. Weight of the trailer towed.
4. Fuel is a variable but our towing vehicle never exceeds fifty miles per hour. This calculation has been factored in based on the mileage covered.
NOT Included in our Calculation
1. Guests' journey including the return journey, mileage.
2. Type of vehicle driven by guests.
3. Speed driven by the guest/s.
Our Calculations
The CO2 emissions are pre-calculated for each guest for every event & unique to that specific event. These calculations are already built into the website booking process.
The United Kingdom average for CO2 emissions is 12.7 tons per person, per year. Life expectancy in the UK is eighty-one years of age on average. Therefore, based on these numbers, a citizen of the United Kingdom will produce 1 029 tons of CO2 across his/her lifetime.
One tree offsets 6 tons of CO2 in its lifetime (from sapling to adult with the lifetime average of a tree at 100 years). Therefore, in theory, it takes 172 trees planted and surviving to maturity and beyond (for 100 years) to offset that CO2 footprint.
It seems logical then that we need to do two things;
1. Lower our carbon footprint wherever we can.
NOMAD Sea Kayaking has taken active steps over its trading life i.e. dropping long-distance events like the 'Dorset Wild Camp' from its event portfolio, annual beach cleans, the purchase of an electric vehicle & paying attention to our suppliers.
2. Plant as many trees as we can.
NOMAD Community Projects has planted four hundred and twenty trees and hedging in 2021. NCP is currently negotiating the lease on three acres of land for planting and rewilding.
Trees Planted - Species
Crab Apples, Rowan, Oak, Elder, Wild Cherry, Silver Birch, Hazel, Downy Birch, Goat Willow.
Hedging Planted - Species
Hawthorn & Blackthorn
On planting, our objective is to 'rewild' wherever possible & as much as we can, promoting insects which in turn will attract birds & small mammals. Planting saplings & hedging is the easiest way to offset CO2 & provides an immediate & tangible result.
We accept that our calculations are nowhere near perfect & they probably never will be. But that's not the point. The point is to offset our impact on our environment & go some way to being fully carbon neutral. We have begun that journey.
NOMAD Sea Kayaking has taken this step & going some way to publicly measuring, managing & minimising our carbon footprint. Our guests can do the same by supporting our work and;
1. Donate when booking.
2. Volunteering to plant.
3. Buying a sapling or hedging when booking.
We will be very happy to hear your views, ideas, questions & suggestions, on any aspect of the way we make our calculations & anything we may have neglected to account for.
Kurt Finch
Since surfing with the pros as a kid in Durban South Africa on my hollow 12ft barge & getting absolutely trashed, I was hooked on sea paddling. Over a period of thirty-five years I've surfed, white watered & sea kayaked in locations around the world. I've guided as a full-time professional for the past sixteen years and my journey continues.