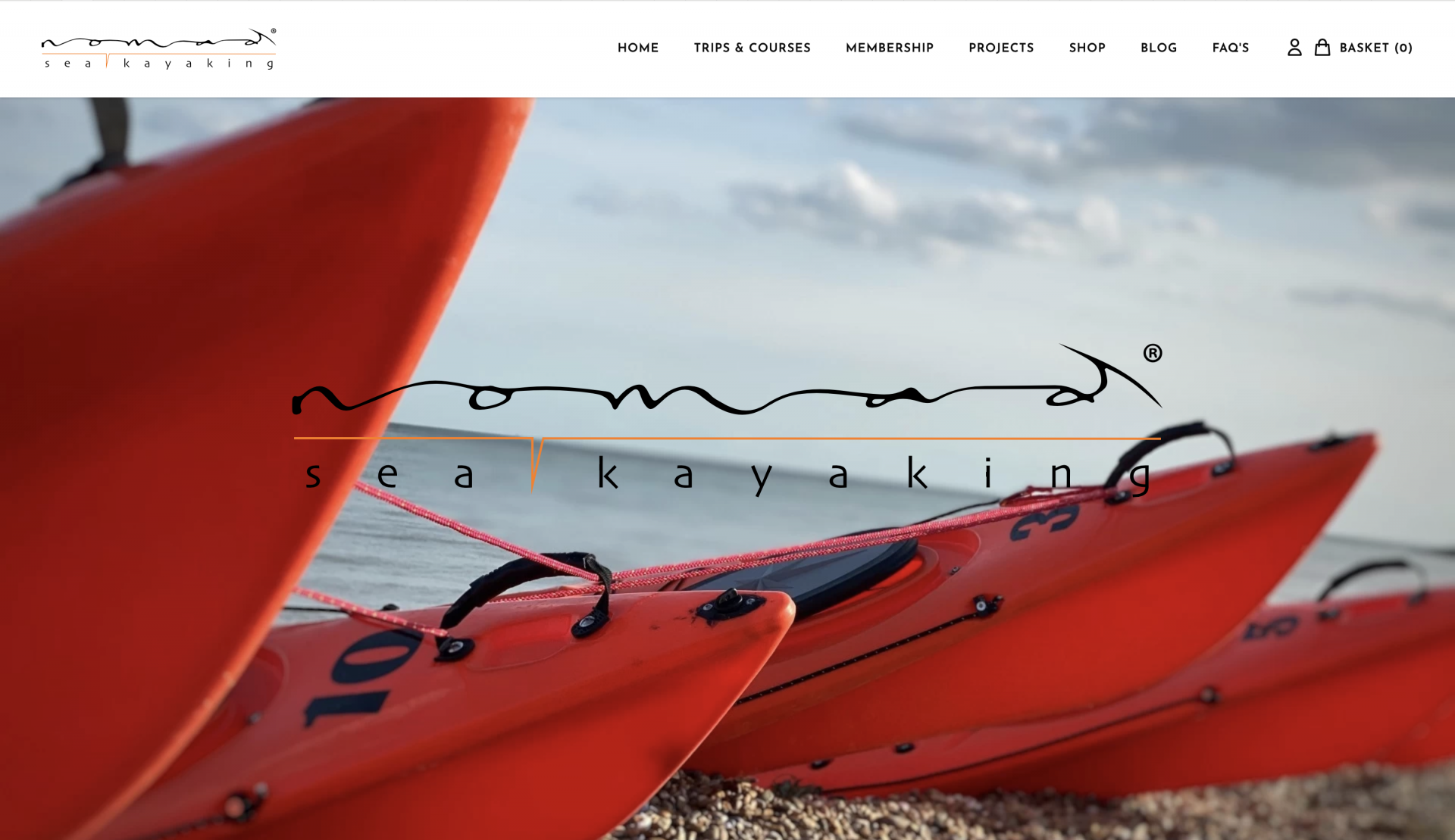 5th February 2021 / General
New Website Launch 2021
Finally! Our new website has been launched & about time too. Our previous website was just fine & did the job we needed it to do & frankly, we rather miss the old style of the full-page image with the parallax over the top. It gained us many a compliment & we were rather attached to it. But business is driven by your customers & frankly, our customers, both retail & member guests really needed more from NOMAD Sea Kayaking & the website is a big part of that offering. And so, late on the evening of the 26th January 2021, our new website went live.
Members, in particular, need a pro-active system with the privacy & security of their own account. Members want guidance on the next stage of their paddling development & a detailed record of their paddling experience & our new website does exactly this.
When our visitors book any event, they will have an account set up for them, allowing access 24 hours a day with the ability to securely manage their booking; invite their guests, allocate resources, provide detailed personal metrics & manage their group. They can review their events, both on the website & social media, add events to their personal 'wishlist' & join the 'waiting list' if their chosen event is fully booked, allowing an automated notification as soon as an event seat opens up. And there is more to come.
By the close of the first quarter of 2021, NOMAD Sea Kayaking will have a Carbon Meter front & centre on the website. This Carbon Meter will be an accurate & up to date meter of our carbon footprint as a business, which we will then work to offset through NOMAD Community Projects, our not-for-profit community-based enterprise. Our work to offset our carbon footprint will be measured & updated daily, by event & both figures will be accumulative, year on year. So there is no hiding! And that's the idea; to 'walk our talk' by publishing our carbon footprint in real-time & working to offset that footprint. All measurable, accumulative & front & center in the public domain.
To our knowledge, NOMAD Sea Kayaking is the first company to do this in the United Kingdom & certainly within our industry.
Every guest will have the opportunity to offset their personal carbon footprint from their participation in their event & even their personal travel to & from the event. This will be done by purchasing tree saplings & volunteering to plant their saplings on organised NOMAD Community Projects planting days. NOMAD Community Projects has over 400 saplings currently on order & due for delivery around the end of March 2020.
The work continues with phase two launched at the end of March 2021. Please feel free to comment & feedback on your experience of the website, this will help us to target the areas that add the most value to you, our valued customers. All of your comments are welcome so please don't hold back.
Kurt Finch
Since surfing with the pros as a kid in Durban South Africa on my hollow 12ft barge & getting absolutely trashed, I was hooked on sea paddling. Over a period of thirty-five years I've surfed, white watered & sea kayaked in locations around the world. I've guided as a full-time professional for the past sixteen years and my journey continues.